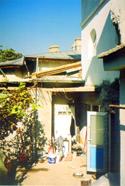 THE SURGERY - this project started october, 2004 - the foundations are already built. View of the future site of the medical care unit, right between our parish priest's house and the old peoples' center.
We'll open soon the shelter surgery in order to asure fulltime medical care. Our goal is to fulfil our obligations and concentrate our efforts to finish as soon as possible this project. We need all help we can get to complete the equipments for this surgery (also for kitchen, canteen and partially for some bedrooms).
If you feel you can help please consult our contact page.
Please rest assured that your help will be used only for this purpose. For those who are interested we'll send a full report regarding all specified items. Rev. Father James, our dear friend, from the Anglican Church in Bucharest, will certify for us on all issues concerning this action.
We are also looking with joy to any future visits, praying and hoping that together we can accomplish better our mission.
Expressing our deepest gratitude for your interest and encouragement we remain,
Yours Faithfully, God Bless
Father Gheorghe Tudor
Parish Priest